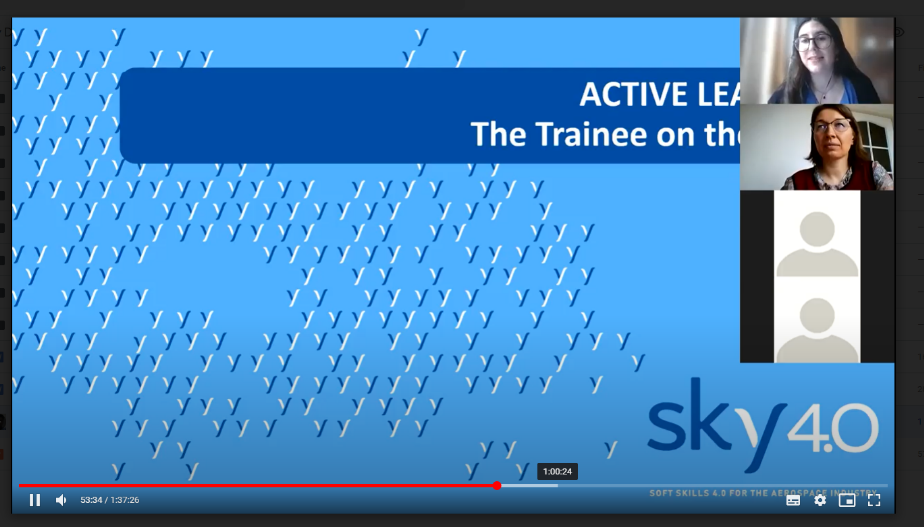 On the 30th and 31st of March, the Sky 4.0 project presented the Webinar: "The Educational Revolution: Active Learning for Industry 4.0 in Aviation".
In our two-day Webinar, we focus on active learning, a learning approach where the student is engaged in the learning process, and building their understanding by interacting with the learning materials and knowledge. But why? – You might wonder… For us, Active Learning is the solution to deal with the new challenges of Industry 4.0! By applying Active Learning in our training and teaching moments, we can prepare our current workers and future workers to deal with change, disruption, and innovation, to not only navigate the 4th Revolution but to successfully lead its implementation and development!
Sky 4.0 fully incorporates active learning, developing all the training materials with moments of reflection, hands-on activities, and group collaboration! Our mantra is the "Trainee/Student on the Centre" since that's the only way we can improve and work on ourselves!
During our webinar, we explored the importance of changing the way we learn! First with our Roundtables, where our experts highlighted the importance of preparing our workers to be lifelong-learners, of upgrade our Education System to its 4.0 version, and of the importance of the soft skills (the human's best asset in the technological world and that can NOT be taught in a two-hour lecture)!
In our workshops, we not only highlighted the importance of an active learning process but also showed how Sky4.0 integrates such methodology into unique on-site activities (self-activities and also trainer-led).
It was such a great moment of innovation, sharing, and LEARNING! As the wises usually say "Life is about the journey, not the destination" and in Sky 4.0 we are enjoying the ride, so join us because our flight is not done yet!